Dominican Republic
Jump to navigation
Jump to search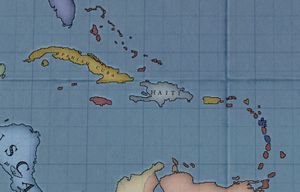 Dominican Republic is a nation releasable from
Haiti. It is placed on the island Hispanola east of

USA. The Dominican cores covers the eastern half of the Island. It is a nation in North America and thus it receives a lot of immigrants from Europe, but that does not take away the fact that Dominican Republic is a very small nation. Furthermore they are a presidential dictatorship, which is not good for immigration. So one should consider switching to democracy.
It is independent in the 1861 scenario.
It has a bad, but not completely catastrophic literacy, which will increase with European immigrants. The natural targets of conquest are Haiti, Danish West Indies, or the minor nations, which came out of

USCA.